MicroEJ Classpath¶
MicroEJ Applications run on a target device and their footprint is optimized to fulfill embedded constraints. The final execution context is an embedded device that may not even have a file system. Files required by the application at runtime are not directly copied to the target device, they are compiled to produce the application binary code which will be executed by MicroEJ Core Engine.
As a part of the compile-time trimming process, all types not required by the embedded application are eliminated from the final binary.
MicroEJ Classpath is a developer defined list of all places containing files to be embedded in the final application binary. MicroEJ Classpath is made up of an ordered list of paths. A path is either a folder or a zip file, called a JAR file (JAR stands for Java ARchive).
Application Classpath

explains how the MicroEJ Classpath is built from a MicroEJ Application project.

Classpath Load Model

explains how the application contents is loaded from MicroEJ Classpath.

Classpath Elements

specifies the different elements that can be declared in MicroEJ Classpath to describe the application contents.
Application Classpath¶
The following schema shows the classpath mapping from a MicroEJ Application project to the MicroEJ Classpath ordered list of folders and JAR files. The classpath resolution order (left to right) follows the project appearance order (top to bottom).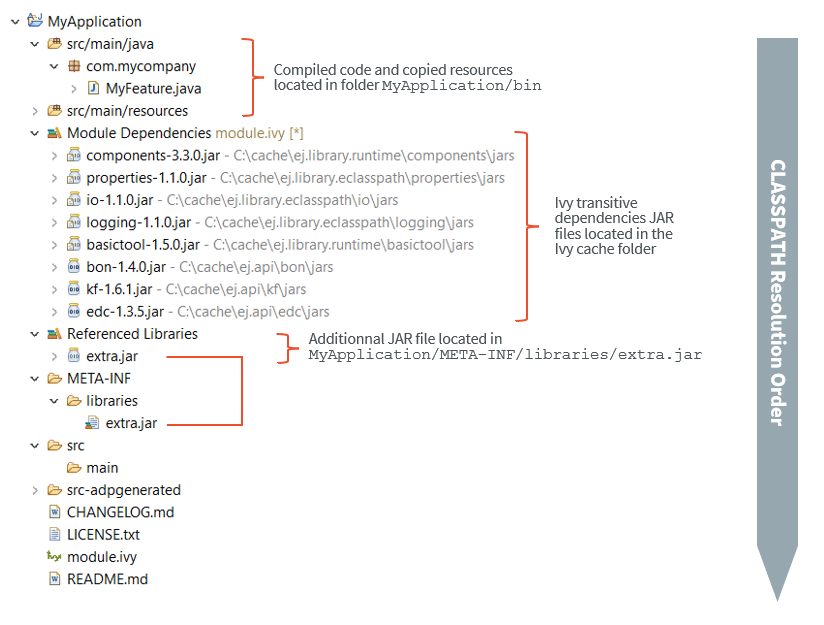 Note
For Sandboxed Applications, when a library cannot be added as a dependency (because it is not available in a repository for example), its JAR file can be directly added in the META-INF/libraries folder of the Application project. It is then automatically added in the compilation classpath and is available for the Application.
Classpath Load Model¶
A MicroEJ Application classpath is created via the loading of :
an entry point type,
all

*.[extension].list

files declared in a MicroEJ Classpath.
The different elements that constitute an application are described in Classpath Elements. They are searched within MicroEJ Classpath from left to right (the first file found is loaded). Types referenced by previously loaded MicroEJ Classpath elements are loaded transitively.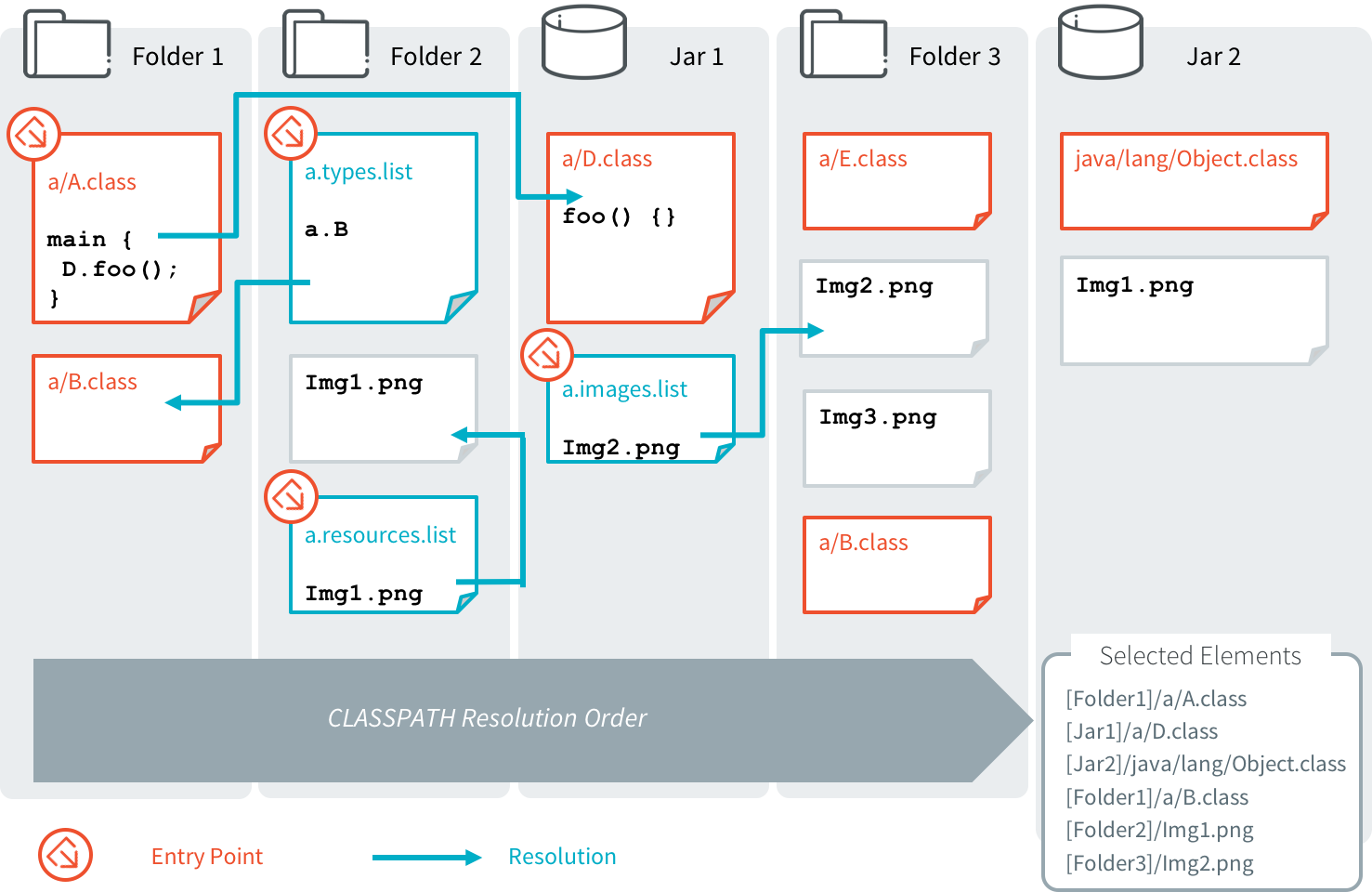 Classpath Elements¶
The MicroEJ Classpath contains the following elements:
An entrypoint described in section

Application Entry Points

;
Types in

.class

files, described in section

Types

;
Immutables Object data files, described in Section

Immutable Objects

;
Raw Resources, Images, Fonts and Native Language Support (NLS) described in

Application Resources

;

*.[extension].list

files, declaring contents to load. Supported list file extensions and format is specific to declared application contents and is described in the appropriate section.
At source level, Java types are stored in src/main/java folder of the module project, any other kind of resources and list files are stored in the src/main/resources folder.