Build and Run an Application¶
Create a MicroEJ Standalone Application¶
Fill in the application template fields, the Project name field will automatically duplicate in the following fields. Click on Finish. A template project is automatically created and ready to use, this project already contains all folders wherein developers need to put content:

src/main/java

: Folder for future sources

src/main/resources

: Folder for future resources (images, fonts, etc.)

META-INF

: Sandboxed Application configuration and resources

module.ivy

: Ivy input file, dependencies description for the current project

Right click on the source folder src/main/java and select New > Package. Give a name: com.mycompany. Click on Finish.

The package com.mycompany is available under src/main/java folder. Right click on this package and select New > Class. Give a name: Test and check the box public static void main(String[] args). Click on Finish.
Run on the Simulator¶
To run the sample project on Simulator, select it in the left panel then right-click and select Run > Run as > MicroEJ Application.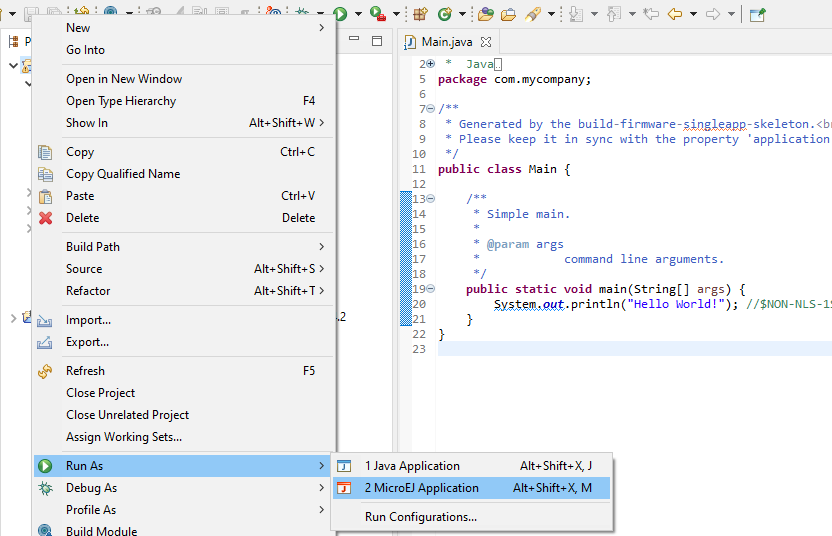 MicroEJ SDK console will display Launch steps messages.
=============== [ Initialization Stage ] ===============
=============== [ Launching on Simulator ] ===============
hello world!
=============== [ Completed Successfully ] ===============

SUCCESS

Run on the Hardware Device¶
Compile an application, connect the hardware device and deploy on it is hardware dependant. These steps are described in dedicated documentation available inside the MicroEJ Platform. This documentation is accessible from the MicroEJ Resources Center view.
Note
MicroEJ Resources Center view may have been closed. Click on Help > MicroEJ Resources Center to reopen it.
Open the menu Manual and select the documentation [hardware device] MicroEJ Platform, where [hardware device] is the name of the hardware device. This documentation features a guide to run a built-in application on MicroEJ Simulator and on hardware device.